Driven by customer success and innovation, Aktana introduces major product enhancements multiple times a year based on customer input, advancements in technology and data sciences, and industry changes. The latest enhancements to Aktana Decision Support center around improving control and visibility for customers, punctuated with a new integration with Salesforce Marketing Cloud. Check out the highlights below.
Decision Support Configuration in Salesforce Marketing Cloud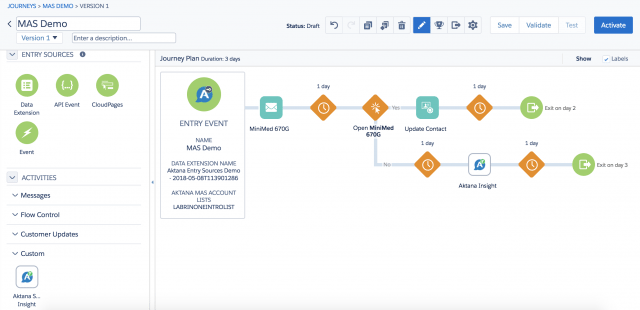 Marketers can incorporate decision support into customer journeys right in Salesforce Marketing Cloud, empowering field actions, guided by suggestions and insights, to align with their brand strategy as intended. They can also set field activity, or inactivity, to trigger customer journeys, automatically incorporating known preferences to personalize the customer experience.
Weekly Planning of Suggestions
During weekly activity planning, users can see all recommended actions for the coming week in a single view, allowing them to choose which day makes the most sense for execution. With a drag-and-drop interface, IQVIA users can allocate suggestions across days of the week. This balance of automation and oversight allows users to benefit from intelligence at their fingertips while also exercising experience-based oversight and judgment.
Exporting for Easy Sharing and Visibility
Administrators can now export all business logic alongside strategy requirements, as well as machine learning parameters and simulation results. With exported reports in a portable format, it's easier to collaborate with stakeholders that don't have direct access to the system, obtain approvals or input, and communicate progress and success of the decision support program.
Increased AI Model Configurability and Simulation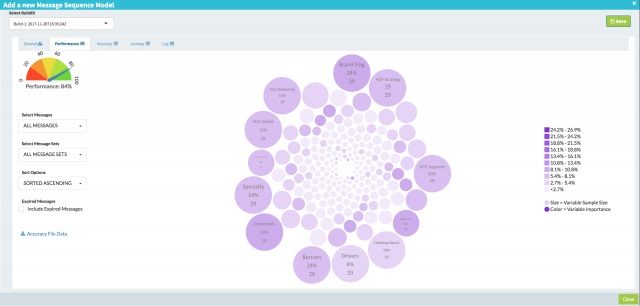 With point-and-click access to configure the AI models, administrators can adjust parameters of rep engagement optimization and message sequence optimization to meet their business needs. The new message sequence simulation visualizer makes it easy to test out how parameters could play out in the real world before deploying to end users.
Expanded Visibility into Decision Support Engagement
Reports and dashboards are expanded to provide visibility into how field users engage with suggestions and insights and how sales managers utilize oversight capabilities for their teams. This makes it easier for commercial leaders to identify bright spots in usage to extrapolate success more broadly.
For additional information, contact your customer success lead or info@aktana.com.