The Veeva Commercial and Medical Summit, Europe welcomed over 1,000 attendees this year in Madrid, including speakers from some of the world's largest life sciences companies. Concentrated on the era of intelligent customer engagement, attendees discussed the future of customer engagement across sessions, networking conversations, and on social media.

Eva Martins, Global Head Innovative Models at Novartis and Derek Choy, Co-founder and COO at Aktana presented how together they are empowering Novartis commercial teams across the globe with decision support to drive improvements in marketing and sales alignment, field performance, and HCP engagement.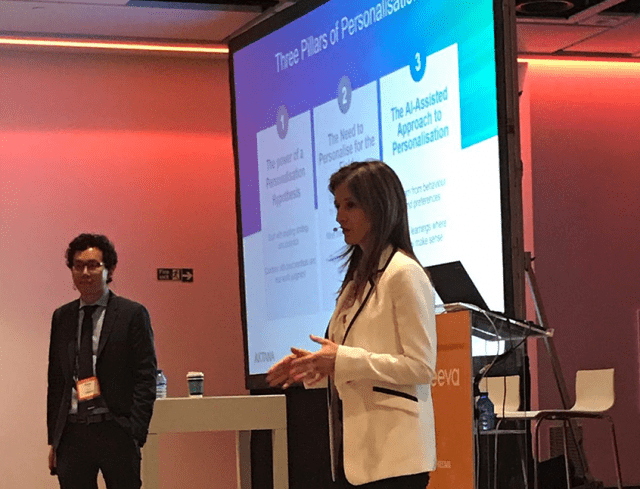 To a full room, the two surfaced the urgency of pursuing improved life science customer engagement, noting that the way HCPs expect to interact has evolved faster than the industry has. There is great opportunity to address an information gap, getting customers the information they need, in the way they want it, in a timely manner.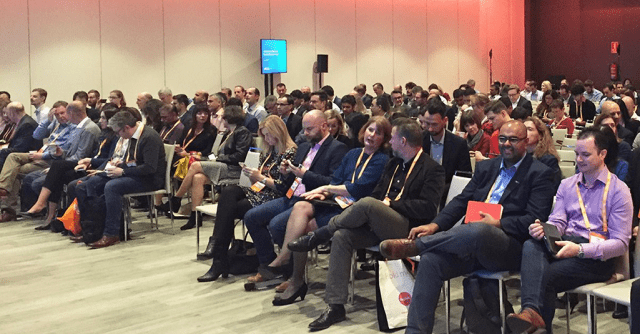 "A major driver of this information gap is the disconnect between brand strategy and customer engagement," Derek explained. "We have the opportunity to learn from and adapt to customer behavior and preferences, to deliver a very valuable, personalized experience.
Eva discussed the enterprise transformation Novartis is undergoing through a cultural movement to be the leading medicines company powered by data and digital. "A big part of this vision is transforming our commercial model using data, digital, and AI," she explained. "We're starting with the field and working with partners like Aktana to deliver actionable suggestions and insights directly in rep's workflows for better HCP personalization."
They presented three practical pillars for building a new commercial model in pharma, with personalization at the heart.
The Power of a Personalization Hypothesis: Start with an existing strategy and analytics and combine best practices and real-world judgment.
The Need to Personalize for the Field: Ensure field adoption by making suggestions feel right, meeting reps where they are, and being mindful of the broader cultural change.
The AI-Assisted Approach to Personalization: Learn from behavior and preferences and use learnings where they make sense.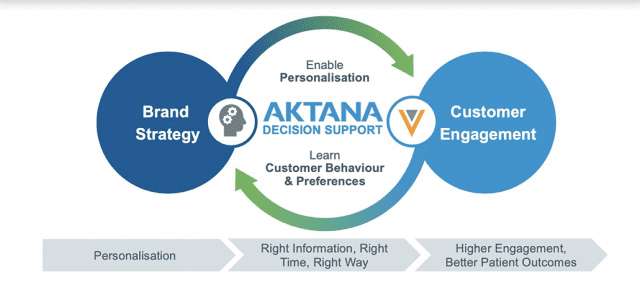 Starting with an existing personalization hypothesis leverages the brand team's strategy, the rep's experience, and the company's investments in analytics. Aktana allows that information to be consumable by reps, so they can use their judgment and real-world experience to personalize for HCP's. Personalizing for the field means thinking about the way reps want to work and adapting to evolving needs. Derek provided an example of this by demonstrating using voice engagement as the UI of the future.
Finally, to refine personalization, machine learning and AI can be used to answer the who, what, where, and when to learn HCP behavior and preferences and improve the initial strategy hypothesis. To make this actionable for the brand, they must understand the output of the model and the confidence we have in the recommendation. Brand teams can then decide when we want to leverage the model outputs, and when to continue to override with the brand strategy and hypothesis. All of these pillars combined have the potential for huge impact.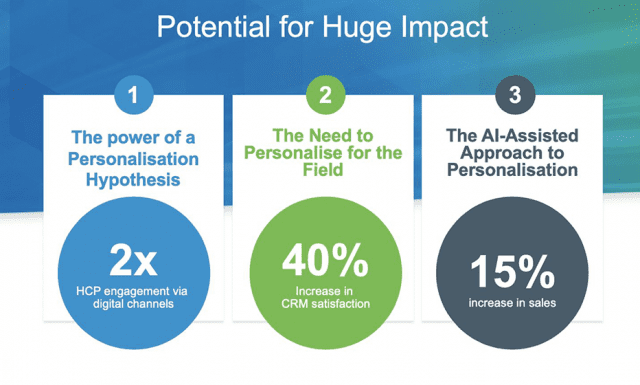 Thank you to Eva and the Novartis team for partnering with Aktana on this important mission and sharing it at the Summit. And thanks to Veeva for another innovative and valuable industry event.
For more on intelligent customer engagement, watch this short video to learn how brand managers can use an AI-assisted approach to engage with healthcare customers in a more effective way.