A practical reference for commercial life sciences teams navigating the omnichannel landscape, this FAQ guide helps address the following questions: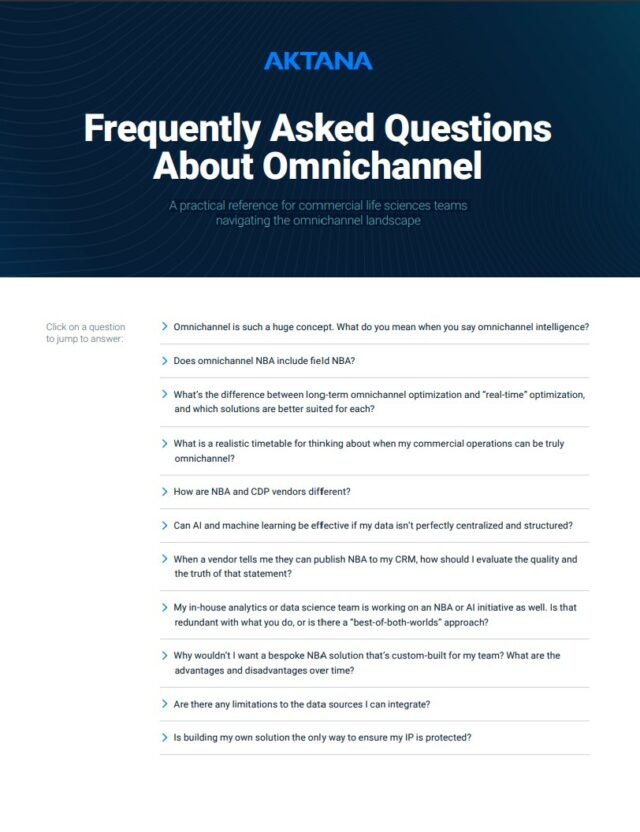 What is omnichannel intelligence?
Does omnichannel NBA include field NBA?
What's the difference between long-term omnichannel optimization and "real-time" optimization, and which solutions are better suited for each?
What is a realistic timetable for thinking about when my commercial operations can be truly omnichannel?
How are NBA and CDP vendors different?
Can AI and machine learning be effective if my data isn't perfectly centralized and structured?
When a vendor tells me they can publish NBA to my CRM, how should I evaluate the quality and the truth of that statement?
My in-house analytics or data science team is working on an NBA or AI initiative as well. Is that redundant with what you do, or is there a "best-of-both-worlds" approach?
Why wouldn't I want a bespoke NBA solution that's custom-built for my team? What are the advantages and disadvantages over time?
Are there any limitations to the data sources I can integrate?
Is building my own solution the only way to ensure my IP is protected?
Download the full Omnichannel FAQ Guide