We returned as a platinum sponsor once again to the Veeva Commercial and Medical Summit, which welcomed over 1,700 attendees in Philadelphia this year. At the event, Eva Martins, Global Head of Innovative Models and Commercial Transformation at Novartis, and Derek Choy, Co-founder and COO at Aktana, presented how Novartis is partnering with Aktana to build the new commercial engagement model by using data, digital, and artificial intelligence (AI).
The pair discussed how new technologies are enabling many organizations such as Novartis to better align commercial teams. By providing actionable intelligence that guides decision-making, sales and marketing teams can dynamically execute personalized experiences for healthcare providers (HCPs) together.
Derek and Eva presented four components of the framework needed to achieve this shift and help companies deliver the personalization HCPs are looking for:
Strategy: Intelligent engagement begins with the way brand strategy is captured and refined to adapt to what happens in the market throughout the year
Tactics: Listen to and apply learnings about customer preferences to optimize HCP engagement plans
Activity: Present information to marketing and sales teams in the right way, so they take the right actions at the right time for better engagement with HCPs
Impact: Continuously measure impact of campaigns, ensuring success is being monitored and continually improving to achieve the strongest results.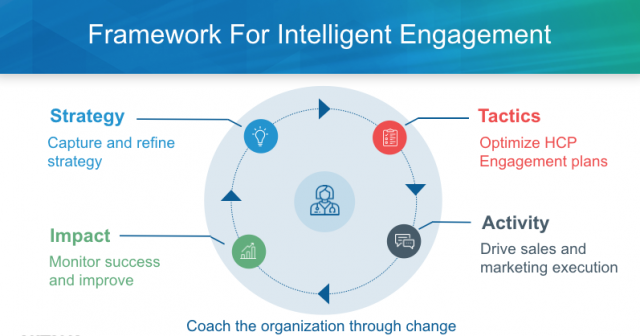 The pair highlighted how the right blend of human and artificial intelligence, supported by the right technology, can improve processes and approaches across organizations from beginning to end.
Eva shared best practices and learnings around this method from her experience at Novartis. "It was important to leverage the great foundation we already had," explained Eva. "Our brand teams put a lot of work into their strategy, our reps have a lot of experience, and we invested a lot into analytics in the past. Starting with that input helped ensure the right buy in from people to catalyze organizational change."
Derek discussed the potential for huge impact and how to measure it all the way from the start. "In our first customer engagements, we thought impact was something we would leave to our customers to do in-house. However, customers have engaged us to bring our experience and best practices we have learned over the years on how to set up measurement programs, and do it continuously."
We enjoyed the opportunity to engage in conversations at both our session and booth around AI customer engagement and demonstrate Aktana Decision Support in action.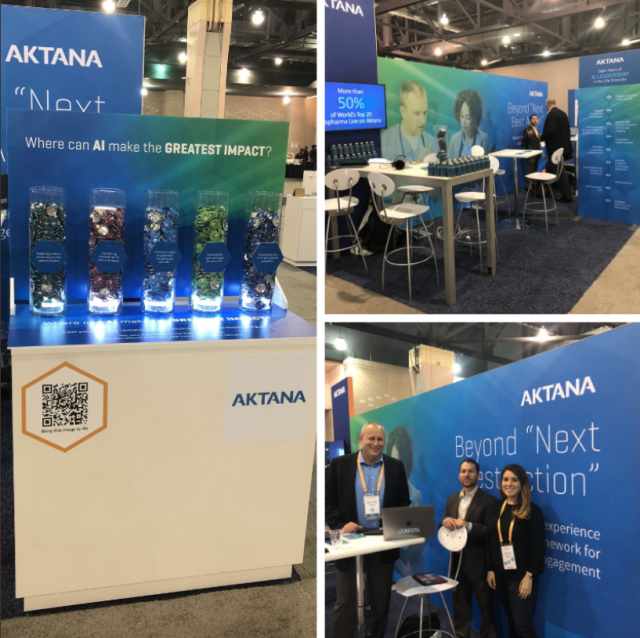 Thank you to the Veeva team for bringing together industry leaders at another great Summit. Aktana is proud to be one of only two Veeva gold technology partners. Thanks to Eva and her team for sharing their success and experience with Aktana.
For more on intelligent customer engagement, watch this video to see how sales and marketing teams are moving beyond "next best action" in the new AI-enabled commercial model.