After a series of CRM Suggestion deployments, we've seen that configurations—the rules that govern how the suggestion engine will react in a given business scenario and control which suggestions and insights show up for reps—don't just differ between customers. As we quickly learned,  they're unique to each brand as well. Every brand faces a unique set of challenges and priorities, and a one-size-fits-all approach simply will not work for something as strategic as CRM suggestions.
Design the right configuration for your brand
With such a wide range of potential use cases, involving the right stakeholders and following a clear process for defining and prioritizing requirements is absolutely critical. Here's ours.
Identify highest-priority use cases
Through a series of guided workshops, we help brands identify, prioritize and flesh out their highest-priority use cases. Not only does it lead to great engagement and momentum with the brand (because it ties in with the tactics brands have already developed for POAs and sales cycle meetings), but it also allows us to be very practical, leveraging existing strategy, analytics and data that already have organizational buy-in.
Involve sales representatives early
Without CRM suggestion adoption by representatives, there is no impact. One best practice for defining suggestion requirements is to codify what your top performing sales reps already do. For one sales team facing the imminent launch of a new vaccine, suggestions helped lower-performing reps increase strategic goal attainment by 22%. Not only does this help your bottom-to-middle performing reps act more like your top performers (which we consistently see in case studies like the one above), but it also helps ensure that suggestions are something reps will actually find valuable and use.
Pressure test with reps of all performance levels
We always involve sales managers and selected top performing reps (on a rotational basis) as part of the requirements-gathering project team. But we also interview a broader spectrum of reps to pressure test the prioritized use cases and ensure general concerns and behaviors of the majority of reps are reflected in the design. Additionally, the pressure testing process can also help identify areas that may require more focus during training and illuminate the right way to explain suggestions to the field during and after launch.
Start small, then scale
As brand managers finally see a way to have their strategies and initiatives linked to the field, (and sales reps get excited about ways suggestions can save them time and increase efficiency), we often see the requirements gathering process trigger an overwhelming flood of use cases and requests.
If you want to get suggestions up and running quickly, it's best to aggressively prioritize a subset of use cases to start on first. Then, develop a roadmap for additional priorities that can be rolled out in waves as you continue to scale.
Take on your brand's unique challenges with a flexible, configurable platform
The resulting breadth of use cases, which will also expand and change over time, requires a highly flexible and configurable suggestions platform.
The screenshot below shows the control panel for Aktana's platform, which we use to design each brand's use cases. Each brand has its own configuration made up of a series of data-driven rules and parameterized algorithms that allow for almost infinite configurability.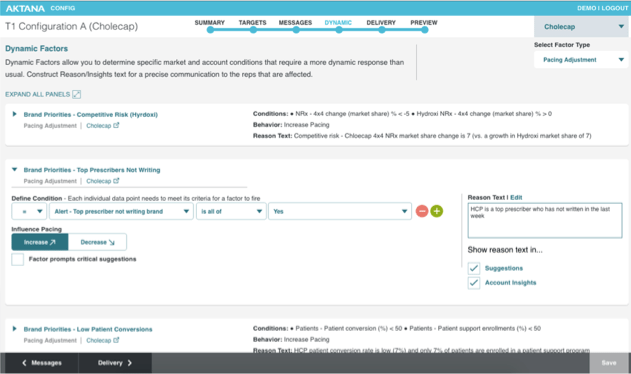 We've needed this level of flexibility with Pfizer and each of our customers, as even the most common use cases, like visit execution, will vary from brand to brand. When you factor in local market nuances and additional products, the need to fine-tune is even more apparent.
To thrive in a dynamic marketplace, agility is a must. In Part 2, we'll dive into the importance of designing suggestions for change, ensuring they always consider the most up-to-date information and feel right to reps.