Configure the Engine
Turn existing strategies into data-driven game plans and seamlessly incorporate decision support as part of a multichannel customer journey with simple configuration options. By providing relevant context to generate critical suggestions and insights, marketers can empower field actions to align with brand strategy as intended. Likewise, marketers can set field activity, or inactivity, to trigger customer journeys, incorporating known preferences to personalize the customer experience.
Translate strategy into action
Aktana begins by codifying your unique brand strategy, ensuring that existing marketing plans—segmented by product, life-cycle or individual rep—can be executed straight away.
Evaluate any data source
Aktana analyzes brand strategy, market data and insights, cross-channel activity and HCP preference to ensure every suggestion advances the customer journey in a cohesive way.
Capture behavior of top performers
We interview your top-performing reps to find out what data they analyze and how it affects the decisions they make, then incorporate their best practices to help all reps rise to the top.
Consider the rep's full decision scope
In real life, context matters. Aktana comprehensively evaluates the priorities and constraints affecting a rep's daily schedule—from call plans to HCP location to other team members' activities—helping them make impactful decisions that take real-world complexities into account.
Empower Commercial Teams
Aktana's proprietary decision support platform synthesizes and prioritizes data to provide commercial teams relevant insights and suggested actions within their workflows. Directly within their CRM system, field users can access critical information and recommended next actions to more effectively engage with customers.
Suggestions: Moment-to-moment guidance
Informed by every data source, suggestions consider all possibilities and suggest a specific, prioritized short list of actions with supporting rationale.
Insights: Only the most relevant information
Insights comb through the data and present just what is relevant to the decision at that time.
Prioritize actions for maximum impact
From marketing automation campaigns to patient-level data, Aktana's decision support platform considers suggestions triggered by every source, delivering a prioritized list of achievable suggestions that won't overwhelm users.
Increase the quality of HCP engagement
Through insights on matters such as script-writing dynamics, formulary coverage changes or patient trends, Aktana helps reps become more knowledgeable about each physician's specific challenges and communication preferences.
Improve Call Plan Adherence
Aktana removes the complexity of redesigning schedules by incorporating targets, ideal pacing, geographic proximity, HCP availability and call history into algorithms that suggest optimal call decisions.
Respond swiftly to market-driven changes
Whether it's a sudden drop in prescriptions or a new product launch, suggestions enable Marketing to proactively guide reps through periods of uncertainty and keep strategy changes top of mind.
Enhance multichannel coordination
With Aktana, reps can know when multichannel activity should impact their decisions and when to initiate alternate channel activity, such as approved email, on their own.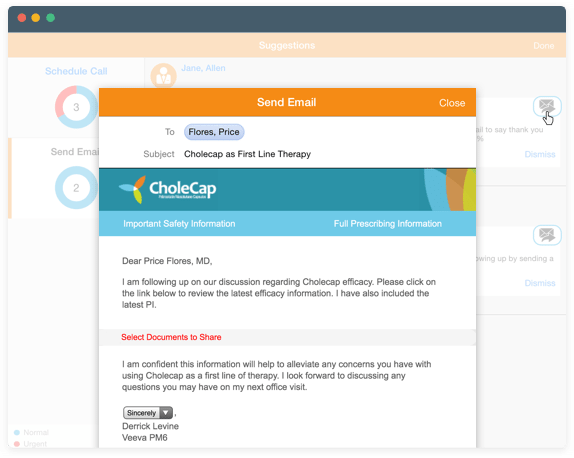 Improve Performance
With real-time feedback on field actions, HCP-specific constraints, and data across all sources, Aktana utilizes machine learning to evaluate how effectively a plan was executed and the impact it had across HCP segments. By capturing this information and sharing it in clearly understood terms, Aktana enables commercial leaders to connect actions to results and make improvements with greater frequency and effectiveness than before.
Collect Comprehensive Feedback
The decision support platform learns from rep actions and feedback, revealing, for example, the constraints affecting specific HCPs or local market conditions not considered by Marketing. It also monitors how effectively a plan was executed and the impact it had across HCP segments.
Learn What Works
Aktana's connected learning platform correlates rep actions and cross-channel activity with results, continuously analyzing behavior and eliminating the need to collect and normalize additional data sets.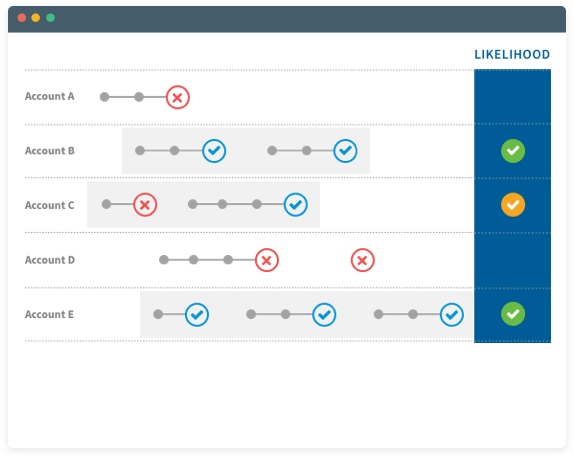 Highlight strategy enhancements
Aktana delivers actionable suggestions about which configuration changes will lead to increased strategic impact. The engine's transparent design makes it easy to modify rules and preview how corresponding suggestions will appear in the rep's workflow, facilitating A/B testing and ongoing strategy improvement.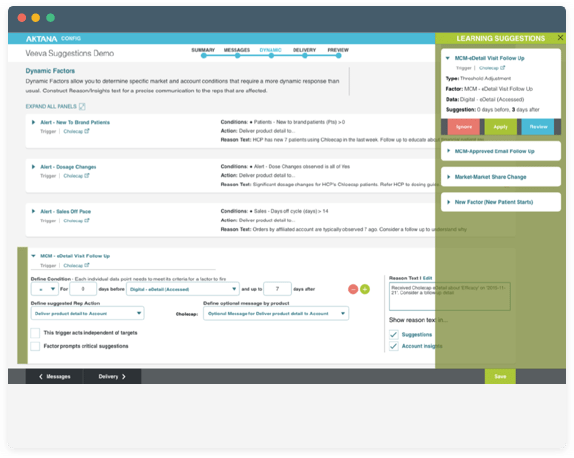 Integrate with Ease
We've made it a priority to leverage existing tools and workflows, adapting to our users instead of making them adapt to us. Through effortless integration with your CRM, marketing automation software and other data investments, Aktana shares its predictive strength and accuracy with every tool in your arsenal.
Out-of-the-box Configurations
Aktana comes with prebuilt connectors for major CRMs and data providers, and can be easily configured for any additional data sources you may want to utilize.
Streamlined Learning Curve
With Aktana, suggestions and insights are displayed within the rep's existing mobile and desktop CRM workflows, thus minimizing configuration, integration, maintenance and training efforts.
Learn more about the technology that propels our product.