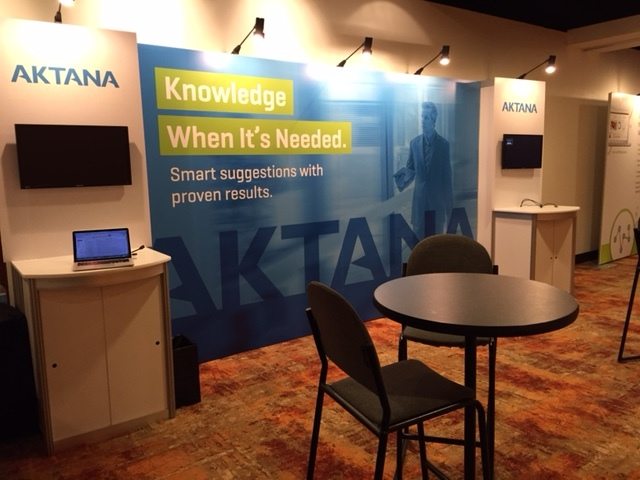 The 2016 Veeva Commercial Summit brought many highlights for Aktana, but chief among them was the opportunity for our existing and new customers to meet, share experiences and help shape our ongoing vision for life science decision support.
Sharing the stage—and lessons learned—with Pfizer
In addition to the impromptu exchanges at our booth between sessions and at social events, we also had the pleasure of co-presenting with Seth Rakestraw from Pfizer on lessons learned from our real-world experience successfully implementing CRM Suggestions across multiple brands, use cases and geographies.
After reviewing how critical communication, change management and training was in a successful deployment of CRM Suggestions, Seth also shared the metrics and measurement plan put in place for the program—as well as some of the fantastic qualitative, operational and financial results we were able to achieve.

Meanwhile, I explored the "how" behind some of the great success we saw at Pfizer. For those who were not able to attend the session, we'll be releasing a three-part blog series covering the major takeaways from our presentation.
Part 1: Every brand has it's own challenges and priorities. If your suggestion platform doesn't accurately reflect them, its impact will be limited. In this post, we'll discuss how to define your brand's unique requirements and leverage your suggestion platform to cover the range of dynamic use cases each brand, market or team might face.
Part 2: As the number of use cases for suggestions grows, so does the risk of overwhelming the rep with conflicting actions and redundant priorities. In the second part of our series, we'll explore the importance of designing suggestions for change, ensuring they always consider the latest information and feel right to reps.
Part 3: Your suggestion platform is a dynamic entity that lives and breathes with your business. In our concluding post, we'll dive into the best practices for managing your suggestion platform over time.
Want a head start? Download the official Pfizer-Aktana presentation overview now.