Almirall LLC, a global biopharmaceutical company focused on skin health, was founded in Barcelona, Spain, in 1943 and today has offices in 21 countries including the U.S. Its innovative medicines are prescribed for a range of dermatology therapeutic areas, including actinic keratosis, acne, psoriasis, and atopic dermatitis. While an innovator in medicines for the skin, Almirall's commercial operations were relying on dated technologies and manual practices.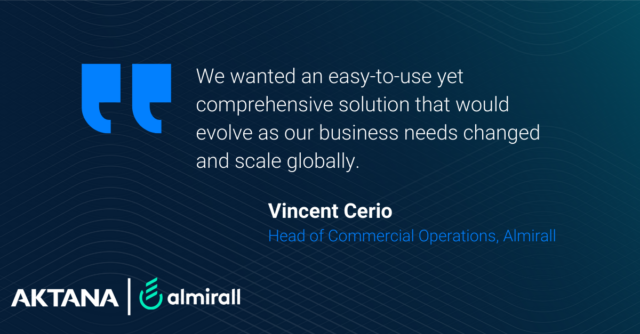 Vincent Cerio, head of commercial operations at Almirall, partnered with the internal team to spearhead a new program – ultimately, putting more skin in the digital game.
"We plan to be the U.S. leader in medical dermatology," said Cerio. "To get there, we needed to replace clunky processes with agile workflows and best-in-class technologies including advanced data analytics and intelligence solutions. Without taking this step, establishing market leadership would be daunting in today's digital-first environment. We missed opportunities for engagement using traditional methods, so this is our chance to bring Almirall U.S.' capabilities to the cutting edge."
Cerio considered different commercial AI strategies. Familiar with the leading artificial intelligence (AI) and data analytics technology providers in the life sciences industry, he did some additional research and a rigorous RFP process. Ultimately, Cerio selected Aktana's Contextual Intelligence 360 – a modular intelligence solution that enables commercial and medical teams to quickly scale AI programs that personalize the customer experience, coordinate engagement, and optimize the healthcare professional (HCP) journey across channels.
Contextual Intelligence 360 is powered by Aktana's next-generation Contextual Intelligence Engine, which applies machine learning, explainable AI (xAI), human intelligence, and other technologies to mine insights from public and proprietary sources, resulting in dynamic, real-time recommendations that help the commercial teams work together in building stronger customer experiences.
"We wanted an easy-to-use yet comprehensive solution that would evolve as our business needs changed and scale globally," explained Cerio. "Aktana's platform incorporates raw or processed data and embeds intelligence across an omnichannel ecosystem with native integrations with our CRM system, marketing automation platform, data warehouse, and other key systems. It is an investment in our sales team today as much as it is in our commercial teams of the future."
Soft Launch – Thoughtful Change Management Strategy Drives AI Implementation
Almirall took a thoughtful, scientific approach to change management for its commercial AI implementation.
The first step of Almirall's AI implementation strategy was conducting a "soft" launch of Aktana's Contextual Intelligence solution before rolling it out to its entire U.S. salesforce – a team of 63 representatives (reps) supporting two key brands. During the soft launch, eight reps had an early opportunity to use the solution over three months and provide feedback to management. They became advocates for the solution when it launched to the rest of the company in January 2022 – and proved to be a key reason it was so well-adopted.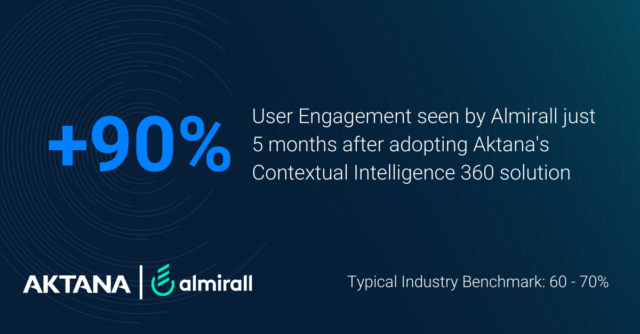 "At Aktana's suggestion, we made change management a priority even before our soft launch began. Early users embraced the system and were impressed by the time they saved in pre-call planning and the new customer insights the solution provided. As a result, they became internal champions, helping to promote the system to others who may be more resistant to change," said Cerio. "Plus, their feedback helped refine the system's algorithms, so it provided even better recommendations by the time we rolled it out nationally."
Almirall determined that hiring expert AI change management consultants would be a critical success factor for adoption, and they were right. "We invested in a formal program grounded in ongoing, transparent communications. We also conducted many interviews from the top down and segmented by tech-savvy versus tech-resistant. It defined our communications roadmap. As a result, system engagement has exceeded expectations. The platform is user-friendly and produces recognizable day-to-day value."
Less than five months since launch, Almirall is seeing user engagement at +90% nationwide, far-outpacing industry benchmarks that hover between 60 and 70%. In addition, the system-driven suggestions accepted by reps have increased month over month for each region and most recently reached 70%, compared to industry benchmarks of 30-50%.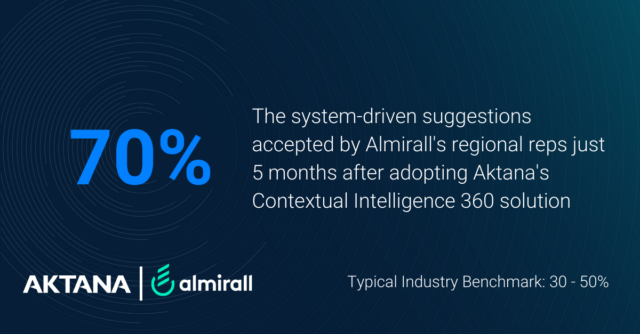 Commercial AI's Real-Life Results
Almirall adopted its new intelligence system to improve sales effectiveness and efficiency, specifically starting with pre-call planning (the heavy analysis that occurs prior to engaging with each customer). Previously, pre-call planning was a manual process, requiring several hours per week – time that could be better spent meeting with customers.
Today, pre-call planning is reduced to just minutes per day, according to Cerio. "We expect our representatives to call on 10 customers each day, but that was challenging, given the amount of planning time required. Aktana's Contextual Intelligence 360 now automatically analyzes data and suggests strategic call plans. The system delivers data-driven recommendations on which customers to see, when, why, and what to discuss through what channel – saving time and improving the quality of each engagement," said Cerio.
Nationwide, productivity has gone up by about 30%, on average, from reps calling on eight or nine customers a day to as many as 14 per day. In addition, sales teams have reduced what Cerio refers to as 'windshield time.'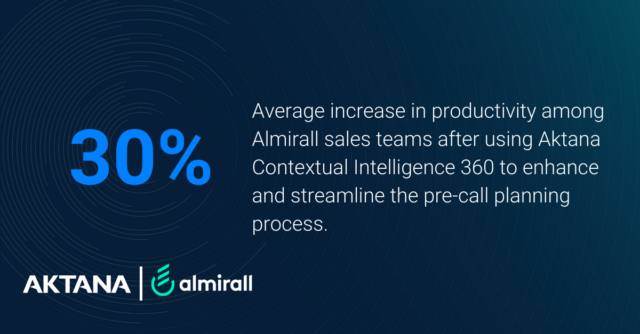 "Many of our representatives cover large territories. It could take three to five hours to drive from one end to the other so it can be challenging to develop an efficient routing plan that avoids bouncing from one town to another," Cerio explained. "Aktana helps them optimize their time in each location by grouping calls together or suggesting that they visit a new, otherwise unplanned, physician's office that is 'en route to another office."
Almirall's sales team can also now focus more on the quality of each customer interaction, providing customers with a more personalized engagement. The system provides better, more actionable insights about customers. In addition, these insights might lead to an opportunity for a rep to meet with a physician who was not on their radar previously, based on any number of actions such as a physician's attendance at an event, response to an email, or social post. Overall, these additional insights empower Almirall to tailor every engagement with HCPs according to their preferences and needs.
Next Steps – Expanding Almirall's Thirst for Intelligence
Aktana's Contextual Intelligence solution grows and improves with the addition of more information and as more users engage with it (honed naturally by each suggestion acceptance or rejection). As the engine sharpens over time, it provides increasingly more accurate and specific recommendations. In this way, and unlike other technologies, intelligence solutions continuously and organically learn.
"We are very excited about the additional possibilities for our AI solution, and we plan to expand its use across other functions," concluded Cerio. "It is still early, so we are taking a thoughtful approach to AI adoption to avoid change overload and perhaps generate a greater organizational thirst for more AI."