The Veeva Commercial and Medical Summit hosted commercial leaders from across the life sciences industry this past week. Abuzz with talk of artificial intelligence (AI) and its potential to transform how life sciences companies engage with healthcare professionals, attendees sought to understand how to make this a reality in their organizations.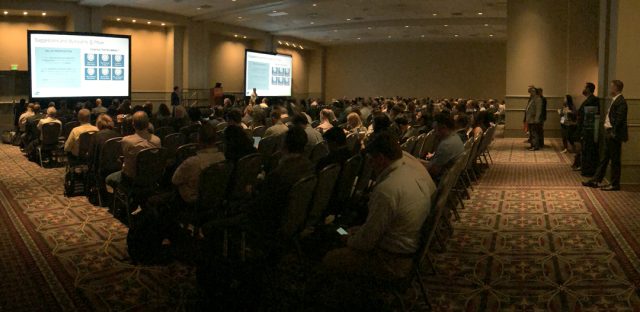 Randy Zagorin from Pfizer and Derek Choy from Aktana discussed real-world examples of introducing AI in go-to-market strategy. To a session audience of over 200, Derek summarized the challenge companies face in driving execution from strategy. "The more sophisticated a strategy gets, with big data and analytics, the more likely it loses its clarity and impact in communication to the field," he explained. Randy described how he is addressing this challenge by using Aktana's decision support platform to supply reps with "next best action" suggestions and pre-call planning insights within their CRM system.
The two speakers presented three ways to make AI a reality, emphasizing the importance of actionability and trust:
AI to improve execution – We apply AI not on the strategy itself, but rather on the way that strategy is translated to suggestions, making it "feel right" to reps, whose decision-making we are trying to influence.
AI to refine go-to-market strategy – The strategy, initially codified as business rules across who, what, where, and when dimensions, can then be iteratively refined over time across each dimension.
AI as a strategy input – We can synthesize various partner and in-house analytic models with Aktana's own AI to deliver smarter suggestions.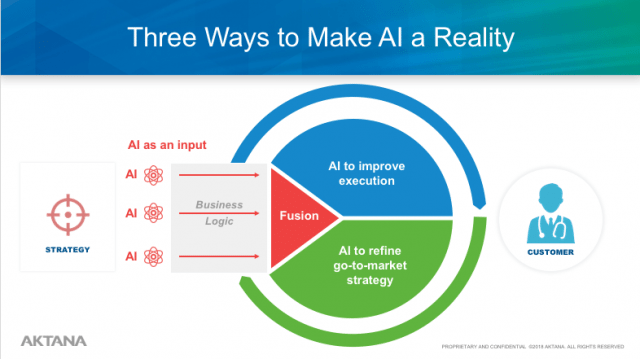 The keynote presentation by Veeva CEO Peter Gassner and SVP of Commercial Strategy Paul Shawah echoed the strategic importance of artificial intelligence. The newly announced commercial data warehouse product Veeva Nitro will make it easier for life sciences companies to get data into a single, accessible system and establish a better foundation for AI. The easier this process is for customers, the faster Aktana can synthesize data effectively and produce even more accurate next-best-action recommendations.
Many thanks to Randy and the Pfizer team for collaborating with Aktana on this speaking opportunity, and congratulations to Veeva on another productive industry event.